They say cameras add ten pounds, but HP digital cameras can help reverse that effect. The slimming feature, available on select HP digital camera models, is a subtle effect that can instantly trim off pounds from the subjects in your photos!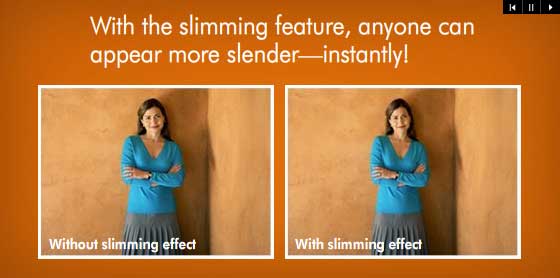 da fällt mir nichts mehr ein… die automatische gesichts-schönrechnerei ist ja schon bedenkenswert genug, aber was dort abgeht, entzieht sich meiner auffassungsgabe.
klar, die gesellschaft wird ja förmlich überzogen mit irgendwelchen schlankheitsidealen, mit dem wahn, in size zero (ja, die grösse gibts wirklich) zu passen und sich den gazettentitelbildern ebenbild zu machen.
das es nun schon ein "ich-bescheiss-mich-und-dich-mal-eben-selber"-feature an modernen digitalkameras gibt, ist die krönung des schwachsinns. zumindest für mich.